Fears budget cuts could close two fire stations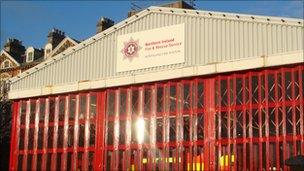 Budget cuts could force two of Northern Ireland's fire stations to close, the Fire Brigades Union has warned.
The proposals - which also include the loss of 150 jobs - are part of a draft plan which considers the impact of a cut 25% to the Fire Service's budget.
The union said it would "almost certainly" shut one of Londonderry's two fire stations.
The Acting Chief Fire Officer, Peter Craig, has written to the Assembly warning of cuts to front-line services.
Mr Craig said that to achieve up to 25% efficiency savings, the Fire and Rescue Service would also have to consider downgrading fire and emergency cover in "at least six other whole-time crewed fire stations".
"If I think cuts are going to impact on public safety or on the safety of firefighters in Northern Ireland, the one person who will object is me because I'm required by law to provide an effective and safe fire service for everybody.
"If there is potential for a whole-time fire station to go we will have to scan the whole context of Northern Ireland to see where we can efficiently and effectively remove one without affecting public safety or public confidence.
"This a worst-case scenario.
"If things get really bad we're looking at potentially two fire stations which might have to go, but until I know what my budget is, this is all supposition."
Related Internet Links
The BBC is not responsible for the content of external sites.