Paddy McKillen begins Nama loans appeal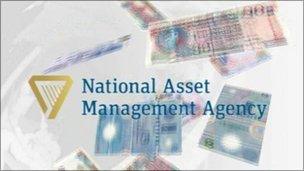 An appeal by Belfast-born developer Paddy McKillen will begin in Dublin's Supreme Court later.
Mr McKillen is trying to stop the transfer of 2.1bn euros of loans to the Republic's National Asset Management Agency (Nama).
Mr McKillen's legal challenge to Nama was dismissed by a three-judge division of the Commercial Court in November.
Seven Supreme Court judges will begin to hear his appeal on Wednesday morning.
Nama was set up following the banking crisis and is taking over all major development loans from Irish banks.
One of Mr McKillen's companies, the Maybourne Group, owns some of London's most prestigious hotels, including Claridges and the Berkeley.
He claimed his business would be damaged by being linked with Nama.
The state claimed the whole purpose of Nama would be undermined if Mr McKillen's bank loans were not transferred, as they posed a systemic risk to the banking system.
The Commercial Court ruled that the Nama legislation was a proportionate response to the very grave financial situation in which the State found itself.
A stay on the transfer of the loans is in force, pending the outcome of the appeal.