Irish airs sent from outer space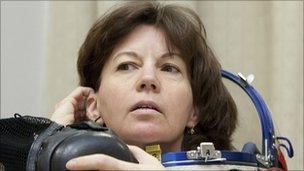 Fans of traditional Irish music have always maintained it is out of this world, but now a United States astronaut is about to make it a fact.
Nasa astronaut and accomplished flautist Catherine Coleman blasts off today from Kazakhstan for a six-month period orbiting the earth on the International Space Station.
Along with her regulation space gear, she is taking a priceless Irish concert flute, given to her by a man who is considered to be a star himself by traditional music lovers.
Chieftains flute-player Matt Molloy met the NASA astronaut, nick-named Cady, more than 10 years ago after playing at a concert in Houston, Texas.
His pedigree in the traditional music galaxy is stratospheric - he has been a member of the Bothy Band, Planxty and the Chieftains and performed with other artists throughout the world.
After the Houston gig, Matt said, they took part as usual in a session with local musicians, including the astronaut.
"It transpired that Cady played the flute, and we have been friends ever since," he said.
Ms Coleman, who has spent 500 hours in space during two Space Shuttle flight and is a former US Air Force colonel, is an ardent fan of Matt and his music.
On a previous trip into space, she took his "Shadows on Stone" CD and listened to him playing while she was in orbit around the earth.
That the Sirius Reel was among the tracks was, no doubt, pure coincidence.
The Westport publican said he was moved when she told him: "Your music always brings me to a special place, so I thought I'd bring yours to one."
Now, on her first voyage to the International Space Station, she told Matt she hoped to go one better.
"She told me she was going to be heading there for six months, and asked me if I had a flute that she could play while on the station," he said.
Matt gave her one of his most prized possessions, his E-flat flute.
To those who know their traditional music, this is the Ardagh Chalice of Irish concert flutes, as legendary as a Christy Ring caman or a Jimi Hendrix guitar, or a pair of Pele's football boots.
Connoisseurs will know it as the instrument played on his landmark first solo album in 1976.
"It was made in the late 1890s or early 1900s and I couldn't possibly put a value on it but it's very special to me. Cady is a fine accomplished flute-player, so it will be in good hands," he said.
Ms Coleman takes off on Wednesday with Russian cosmonaut Dmitry Kondratyev and Italian Paolo Nespoli to dock with the space station and join an American and two Russians.
There will not be too many places to hide on the ISS, so in downtime between busy experiments, the international crew will be treated to jigs and reels - and could well be the first to try "throwing the step" or a Siege of Ennis in zero gravity.
The love for Irish music among Russians at least - judging from a crowd of 3,000 who attended a "Rhythm of the Dance" Irish dance show last month in Moscow, and Irish traditional musicians such as John Carty, Breanndan Begley, Joe Burke and singer Sean O Se tearing the house down in the city at concerts in the past year - means Ms Coleman's renditions are likely to get the space boots of at least the Russians cosmonauts tapping, if it is possible in weightlessness.
Russia's space programme however already has an Irish music connection. A brother of fluent Irish-speaker and leading light in the Moscow traditional music scene, Muscovite Yuri Andreichuk, is one of the country's leading space engineers who designed the waste-water recycling system on the ISS.
Their father is a rocket scientist veteran of the Soviet Soyuz space programme since the 1960s.
A NASA spokesman in Washington DC said Ms Coleman was in quarantine prior to her flight and could not be contacted prior to launch, but was "intrigued" at the prospect of Irish music on the ISS.
It is not known if there is any relationship between the South Carolina woman and the legendary fiddle-player Michael Coleman, the first to record Irish music prolifically after emigrating to America in the earlier years of the last century, and whose tunes today are a bedrock of the tradition.
Coleman Country - formerly Sligo - from now on however will include a part of outer space too.
We never heard the "Bucks of Oranmore" on Star Trek - but that is because they could not see the future.