Legal liability unlikely in clearing footpaths of snow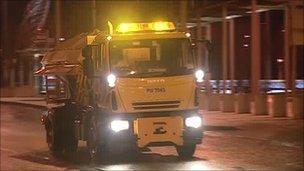 People who clear footpaths of snow and ice are unlikely to be held liable for accidents, the Roads Minister has said.
Conor Murphy's comments were aimed at householders who feared being held responsible for accidents on footpaths they had cleared.
"There is no law stopping you from clearing snow and ice outside your home or business," Mr Murphy said.
He said Road Service staff would "work round the clock" to salt main roads during the forthcoming cold spell.
"With a forecast for another cold period with a high probability of snow on Thursday, motorists are advised to plan their journeys and check the latest travel advice," Mr Murphy said.
"Roads Service will continue to work around the clock with 300 staff, 120 gritters and 11 snowblowers to focus resources as agreed by the Assembly, in ensuring the main roads which carry 80% of traffic are salted.
"This is a massive logistical task involving staff working night and day to keep the main network open which is particularly important in the run-up to Christmas when more people may be travelling on the busier routes."
He said the Roads Service had continually replenished approximately 3,500 salt bins and 39,000 grit piles for use on a self-help basis to help prevent the formation of snow and ice on pavements and untreated roads.
Mr Murphy said further advice on clearing snow and ice visit was available on the nidirect website.
Related Internet Links
The BBC is not responsible for the content of external sites.