Belfast man in court over dead father benefits swindle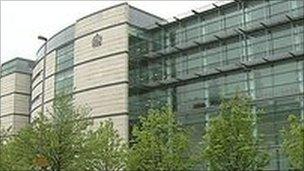 A man used his dead father to cheat the Social Security Agency out of nearly £40,000, a Belfast court has heard.
David Goudie, 35, of Bramcote Street, Belfast, faces five charges connected to an alleged benefits swindle.
It is alleged that he obtained more than £16,700 over three years in Disability Living Allowance although the intended recipient - his father - was deceased.
He was returned for trial after the judge ruled there was a case to answer.
Mr Goudie also faces similar alleged offences relating to more than £13,600 in incapacity benefit, over £4,300 in carer's allowances, and a claim for more than £4,000 in income support.
He is accused of four counts of obtaining property by deception.
A fifth charge centres on a claim that he used a false instrument with intent - a Social Security Agency form - purportedly signed by the dead man.
He declined to say anything in response to the charges.
Belfast Magistrate's Court District Judge Fiona Bagnall granted a prosecution application to have him returned to the Crown Court for trial on a date to be set.
Mr Goudie was released on his own bail of £500.