Paddy McKillen begins Nama loans appeal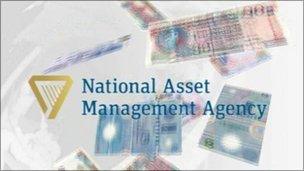 Dublin's Supreme Court has started hearing an appeal by Belfast-born developer Paddy McKillen.
It is aimed at stopping the transfer of 2.1bn (£1.78bn) euros of loans to the Irish Republic's National Asset Management Agency (Nama).
Seven Supreme Court judges are hearing the appeal against the High Court's dismissal of his challenge to the agency.
The case will continue on Thursday.
Lawyers for Mr McKillen outlined to the Supreme Court on Wednesday the five grounds on which they would be appealing.
Senior counsel Michael Cush also outlined 10 facts, which he claimed were unique to Mr McKillen's case and did not apply to other borrowers.
He said even at current values, if all Mr McKillen's properties were sold now, he would have an equity redemption of £200m (£170m) euros.
Mr Cush said a fundamental criticism of the High Court judgment was that when it assessed whether there had been an interference with Mr McKillen's property rights, it failed to address the facts specific to Mr McKillen and had instead dealt with "abstract legal ideas".
He said the court had ignored the damage to the value of Mr McKillen's properties, which would result if they were acquired by Nama and if the agency then forced the sale of the properties in a "terrible market".
Mr Cush said Mr McKillen should have been given an opportunity to make his case to Nama.
He added that Mr McKillen was prevented from making submissions to Nama before a decision was taken to acquire his loans and the legislation prohibited him from making submissions after the acquisition.
Mr Cush said there was a necessity to guard fair procedures "in times of calm and in times of trouble".
Nama was set up following the banking crisis and is taking over all major development loans from Irish banks.
One of Mr McKillen's companies, the Maybourne Group, owns some of London's most prestigious hotels, including Claridges and the Berkeley.
He has claimed his business would be damaged by being linked with Nama.
The state has claimed the whole purpose of Nama would be undermined if Mr McKillen's bank loans were not transferred, as they posed a systemic risk to the banking system.
The Commercial Court ruled that the Nama legislation was a proportionate response to the very grave financial situation in which the State found itself.
A stay on the transfer of the loans is in force, pending the outcome of the appeal.