Child driven away in hijacked car in south Belfast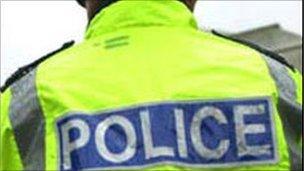 A nine-year-old girl has escaped injury after the car she was in was hijacked and reversed into a wall in south Belfast.
The child's 25-year-old brother was punched in the face by one of three men who forced him out of the car behind a pizzeria on the Lisburn Road.
The men reversed into a wall, before driving away.
The girl was forced out of the car after a short distance and was able to make her way back to the pizzeria.
The incident happened at about 1730 GMT on Wednesday.
The car was driven away towards Shaftesbury Square with no lights on and was later found burnt out at Albert Street in west Belfast..
While the girl was not injured her brother suffered a bruised cheek.
The three thieves were described as being in their late teens and were wearing hooded tops and scarves.