County Down businessman 'warned he would be shot'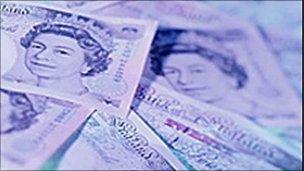 A businessman was warned "his head would be blown off his shoulders" unless he withdrew claims about being robbed, the High Court has been told.
The alleged victim, who runs a demolition firm, was told to say it had been a misunderstanding, according to the prosecution.
A judge was told he later made a short statement withdrawing his complaint.
Details emerged as bail was refused to a man accused of involvement in a £3,000 raid on his premises.
Dickson Reid, 53, of Hyndford Street, Belfast, faces charges of robbery and taking a motor vehicle without authority.
Conor Maguire, prosecuting, said the suspects went into the businessman's County Down premises and seized three bundles of £1,000 in cash.
Reid was stopped in a Toyota car with two other men a short time later, the court heard. The money was recovered from the vehicle.
It was alleged that the victim was approached in October and instructed to take back his statement.
Mr Maguire said: "He was told if he didn't do this his head would be blown off his shoulders."
There was no suggestion that Mr Reid was involved in the alleged threat.
Defence counsel Richard McConkey argued that the withdrawal statement did not say the businessman had been intimidated.
He pointed out that the allegation was only based on something mentioned to police.
"What the crown are saying is they will be relying on hearsay from the investigating officer," he said.
Mr McConkey added that the alleged victim did not name his client, with the height of the prosecution case being his role as driver of the Toyota.
Refusing bail, the judge held that there was prima facie evidence that Reid was in the car where the cash was found.
Lord Justice Girvan also noted that withdrawing a statement does not mean it was incorrect.