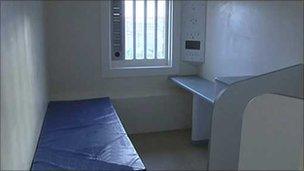 Budget for 2010/11: Recurrent spending £1.22bn Capital spending £80m
Projections for the next four years: The budget projects that the department's recurrent spending will fall by about 3.8% by 2014/15.
Capital investment monies will increase slightly by 2%.
Possible impact: Upon his appointment earlier this year, Justice Minister David Ford acknowledged that his department, one of the biggest in the executive, would have to share its burden of the cuts to public spending.
After the budget, he began to make good that promise.
The NI Prison Service was told in December 2010 that it would have to find savings of just over £65m out of a budget of about £500m.
The PSNI, which has a budget of about £3bn over the next four years, faces cuts of £260m during that time.
The justice minister has made clear that he wants most of these savings to be made in back office operations rather than front-line services.
As well as the cuts already set out, Mr Ford has said he will also target the legal aid bill, which has been 20% more expensive in Northern Ireland than in England and Wales.