North west roads treacherous after heavy snow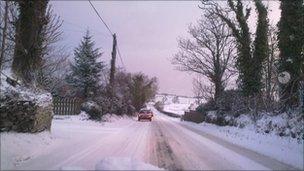 Motorists are being warned of treacherous conditions on the roads as heavy snow continues to fall across the north west.
The Met Office has a weather warning in place for Northern Ireland until 1800 GMT on Friday.
The runway at City of Derry airport is closed, and all flights are suspended. Passengers are advised to contact their airline.
More than 700 schools across Northern Ireland have also been forced to close.
George Best Belfast City Airport will be closed until at least midday.
All flights at Belfast International airport have been suspended.
Part of the M1 has re-opened after being closed for a time on Friday morning.
Colin Brown from Roads Service said that gritting has been underway since Thursday afternoon.
"The roads are being heavily and continuously salted.
"The extreme amount of snow - in some places up to eight inches - has made it very difficult to keep the main roads open, but we are putting a huge amount of effort into keeping the main routes passable."
The PSNI has urged drivers to only travel if absolutely necessary.
Regional Development Minister Conor Murphy has advised people wanting to help clear footpaths of snow and ice, then they are unlikely to be held liable if there is an accident.
Related Internet Links
The BBC is not responsible for the content of external sites.