'Disappeared' victim laid to rest in Belfast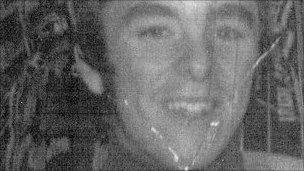 The funeral of "Disappeared" victim Peter Wilson, who went missing more than 30 years ago, has taken place.
Mr Wilson was 21 when he was kidnapped after leaving his west Belfast home in August 1973.
He was laid to rest at Milltown Cemetery at 1200 GMT, close to where he lived on St James Road.
Mr Wilson's remains were unearthed at a beach in the town of Waterfoot in the Glens of Antrim last month.
It later emerged that the Wilson family often visited the beauty spot without ever knowing he was buried there.
The 10-day search for his body resulted in the first Disappeared discovery to be made in Northern Ireland. Eight victims have previously been found in the Republic.
In a statement, the family said Mr Wilson would be buried beside his mother and father.
"Peter was a much-loved son and brother," they said.
"We are comforted that we will finally be able to bring him home for Christian burial in order that he may rest in peace."
The unemployed Catholic, who had learning disabilities, left his home in the Beechmount area of west Belfast in 1973. He was never seen again.
It is believed he was abducted and killed by members of the IRA.