Office of the First and Deputy First Minister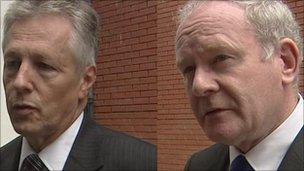 Budget for 2010/11: Recurrent spending £80m Capital spending £12m
Projections for the next four years: The budget projects that by 2014/15, the day-to-day spending budget will have fallen to £74m, a drop of about 8%.
Capital spending for this department will more than double to around £26m.
Possible impact: One of the smaller departments, OFMDFM has a number of responsibilities, including equality, human rights, community cohesion and economic policy.
It has several outstanding issues in its in-tray including victims' issues and bringing the former Maze prison site saga to a successful conclusion.