'Axe' murderers appeal conviction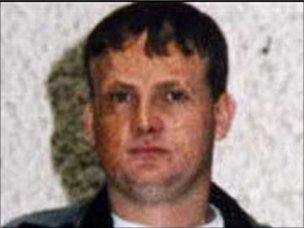 Three men jailed for hacking a father to death in his bedroom are to seek to overturn their convictions, it emerged on Friday.
The Court of Appeal set aside four days next year to hear the challenges by Christopher Stokes, Edward Stokes and Martin Stokes.
They were found guilty of murdering John Mongan at his home in west Belfast in February 2008.
Mr Mongan, 30, was killed by a suspected blow from an axe.
The father-of-three was attacked in front of his heavily pregnant wife Julia and their daughter, at their home on Fallswater Street.
During the trial, the assistant state pathologist who examined Mr Mongan's body told the court he had identified between 40 and 50 wounds which had been inflicted by least two bladed weapons, possibly an axe and a sword.
The accused, all travellers from Londonderry, were jailed in March by a judge who told them they had taken the law into their own hands in setting out to "slay" the victim.
Edward Stokes, 39, was told he would serve at least 22 years of a life sentence, while Christopher Stokes, 35, was given a minimum of 20 years.
Martin Stokes, who was just 15 at the time of the murder, was handed a minimum 16-year term.
All three have now launched appeals against their convictions.
Part of the challenge will focus on how the trial judge handled issues around supporting evidence in the case.
Further transcripts are to be sought as part of the Stokes' legal teams' preparations.
After being told how long it would take to hear the appeal, Lord Chief Justice Sir Declan Morgan agreed to list it for four days in May.
During their trial Mr Mongan's wife, who was due to give birth the day after the killing, described how she had pleaded with the intruders not to attack him.
She said in evidence that both she and her seven-year-old daughter witnessed the murder and named all three defendants as the killers.