Tram and car in Dublin collision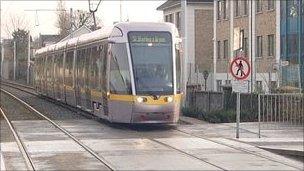 Three people have been taken to hospital after a tram and a car collided in Dublin.
It happened at about 1315 GMT in the city's Blackhall Place.
Two of those brought to hospital were travelling on the Luas tram, the other was in the car.
None are thought to have suffered serious injuries, with police saying they were taken to hospital as a precaution.