Brian Kennaway appointed to Parades Commission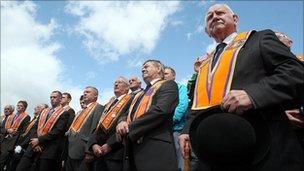 The BBC has learned that a former senior Orangeman who fell out with the leadership has been appointed to the Parades Commission in Northern Ireland.
Reverend Brian Kennaway will be part of a new commission appointed by the Northern Ireland Office which will begin operating early next month.
An official announcement is expected later on Monday.
Mr Kennaway was convenor of the education committee of the Grand Orange Lodge of Ireland from 1992 to 2000.
The process of reappointing the Parades Commission began after legislation to replace the body was put on hold earlier this year.
In July, the Orange Order rejected the proposed legislation to deal with contentious parades.
As a result, the Parades Commission will remain in place for another year.