Conditions treacherous as more snow falls in NW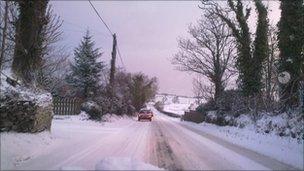 Conditions on the roads in the north west remain treacherous after further overnight snowfall and icy conditions.
Almost 500 schools across Northern Ireland are closed because of the weather.
City of Derry airport was closed for a time, but reopened at 1100 GMT. Belfast's two airports are also open.
Temperatures in Northern Ireland dipped to their lowest ever on Sunday night, with -18C recorded in Castlederg.
There has been a further 10 to 15cms of snow in some places.
Colin Brown from Roads Service said driving conditions were particularly difficult in the north west.
"Roads Service has been very busy over the last four days continuously salting and ploughing snow from the roads.
"Last night we had up to eight inches of snow in Derry, Antrim and Down, so everywhere it's been a very long night, but we've managed to keep the main roads open and passable with care."
BBC weather presenter Angie Philips said temperatures would again remain low on Monday, with conditions on the roads "treacherous".
"Temperatures will fall dramatically tonight, maybe getting down below minus 15 celsius in the Castlederg area again, but many rural parts of the west probably dipping below minus 10 celsius," she added.
"A severe frost will develop, with very icy conditions persisting over frozen and compacted snow.
"Some freezing fog is likely in places again too."
A number of train services were disrupted in Northern Ireland on Monday morning.
Ciaran Rogan of Translink said bus services were "sticking to main roads", and some delays were expected on the Goldline service.
Related Internet Links
The BBC is not responsible for the content of external sites.