NI pub trade 'critical' after weather wipeout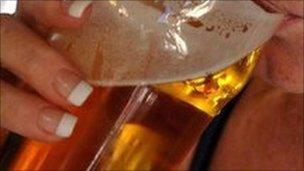 The chief executive of a major hospitality body in Northern Ireland has said the situation for the local industry is "critical" after trade was badly hit by the weekend weather.
Hundreds of Christmas functions had to be cancelled on Friday and Saturday after snow caused massive disruption.
Colin Neill of Pubs of Ulster, which represents 70% of pubs in NI and and a third of all hotels, said he expected "a lot of bars" to close in the new year.
"This is probably the worst trading period over Christmas on record for our industry," he added.
"We normally do 20% of our year's turnover in December and we have people cancelling left, right and centre.
"The big impact is that so many pubs and hotels are doing food at Christmas.
"It just doesn't keep and it is not like we can hang on to the food and sell it again.
"I think it is critical, we had pubs on Friday and Saturday actually close on the busiest weekend of the year."
Mr Neill said that the hospitality industry traditionally relied on sales from the Christmas period to cover bills for January and February.
"The industry was already in dire straits with the recession and this is going to add the death blow to a number of premises," he added.
"I think we are going to lose a number of bars right across the province on into spring and the summer."