Snow no: Couple's three day wait to fly to Australia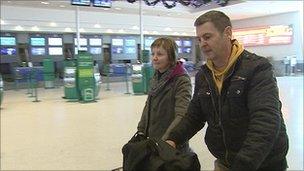 The 24-hour journey to Australia is a daunting prospect for most travellers, but a Londonderry couple are now on day three of their trek Down Under.
Neil Doherty and Dorothy McGrath from Kilrea were due to fly to Heathrow from Belfast on Saturday afternoon in time to catch a connecting flight.
However, their travel plans are now in disarray thanks to the arctic weather conditions that have brought London's main airport to a standstill.
Neil and Dorothy have now made it as far as Gatwick after finally catching a flight from Belfast International Airport on Monday morning and face a taxi ride across London in the hope of catching a Quantas flight from Heathrow a few hours later.
But with very few planes leaving the runway the couple are far from hopeful.
Neil said: "We are supposed to spend Christmas with my daughter. She is in tears over this.
"We left Belfast at 9.30am, we were supposed to leave at 6.30am.
"Our flight is from Heathrow at 1pm but Quantas fly from Gatwick too so we are trying to transfer our tickets to fly from here."