School to start term early to make up for missed days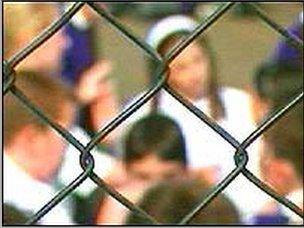 One Londonderry school is to start next term early to make up for days missed because of the bad weather.
The principal of Lumen Christi College, Pat O'Doherty, said he had decided to bring senior pupils back early because of their exams.
Earlier the chairman of the Education Committee, Mervyn Storey, said schools should consider making up time later in the year.
Hundreds of schools across Northern Ireland had to close on Tuesday.
Mr O'Doherty said the decision was made on safety grounds.
"Conditions were so treacherous that we had to make the call in terms of closing the school, and in terms of making the time up again staff were more than happy to come in early on 5 January.
"Most parents were pleased with the fact that we weren't opening today, and we just hope the weather will be better in the new year."
Some schools in the Irish Republic may open early after Christmas.
The Irish Department of Education has contacted school management bodies in relation to the options for making up for lost time.
Mr Storey said he does not believe shortening the Christmas break is a good idea but days could be made up later in the school calendar.
He added: "The difficulty we are going to have is that if this weather is prolonged then we could have the same problems come January.
"I don't think this is the right time of year. It could be looked at later in the year.
"What needs to be of paramount importance is, if a school believes too many days have been lost, then if additional time can be gained elsewhere then that needs to be seriously considered."
A spokesman for the Department of Education in Northern Ireland said it has not considered shortening holidays but it is possible.
He added: "Schools should only close for exceptional reasons and where these occur regularly it may be possible to shorten or cancel other optional holidays."