New Parades Commission for Northern Ireland appointed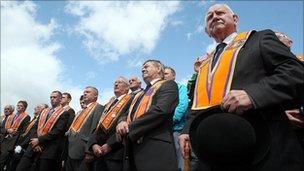 Secretary of State Owen Paterson has appointed Peter Osborne as Chair of the Parades Commission for Northern Ireland and six new Commission members.
Douglas Bain, Delia Close, Reverend Brian Kennaway, Dr Catriona King, Frances Nolan and Robin Percival will take up their posts in January 2011.
Former senior Orangeman Mr Kennaway fell out with the order's leadership.
The Parades Commission was reappointed in September after legislation to replace the body was put on hold
Mr Paterson said:"Until such time as locally owned arrangements can be found the Parades Commission will continue to play a vital role in ensuring that there is a means of dealing with contentious parades which allows for consideration of the rights of those who wish to parade and those who are affected by parading.
"I am sure these new commissioners will continue to work with local communities to ensure we do not see a repeat of the violence which occurred at a small number of parades during the summer past.
"They bring with them skills, understanding and a wealth of knowledge that will contribute greatly to this important work.
"I am delighted that they have accepted the offer of appointment.
"We were very impressed by the strength of the applicants and believe we have ended up with a strong commission, which will be robust and fair".
The Secretary of State also thanked the outgoing Commission.
He said: "The outgoing Commissioners, whose term of office has now expired, have made a valuable contribution to moving the issue of parading forward in Northern Ireland."
The new commission members will take up their posts in the new year.
Peter Osborne runs Rubicon Consulting and has worked in the public, voluntary and community sectors.
Douglas Bain has recently retired as Chief Electoral Officer for Northern Ireland.
Delia Close is a retired teacher. She is now involved in conflict transformation and community peace initiatives in the Ballymena area
Rev Kennaway is an ordained Minister of the Presbyterian Church in Ireland and retired in January 2009
Dr Catriona King has had an extensive clinical, management and academic career
Frances Nolan is a retired police officer. She is Deputy Lieutenant for County Tyrone and Member of Victim and Survivors Transition Group
Robin Percival has spent his career in education and is currently writing his second novel.
Mr Kennaway was convenor of the education committee of the Grand Orange Lodge of Ireland from 1992 to 2000.
In response to his appointment an Orange Order spokesperson said: "We do not engage with the Parades Commission, so it is irrelevant who is on it".
The process of reappointing the Parades Commission began after legislation to replace the body was put on hold earlier this year.
In July, the Orange Order rejected the proposed legislation to deal with contentious parades.
As a result, the Parades Commission will remain in place for another year.