iPhone app gives a voice to the voiceless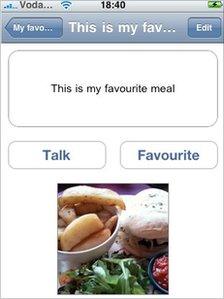 BBC NI's Dublin correspondent Shane Harrison reports on a Belfast-born father who has developed a special way to let his son, who has a speech impairment, communicate.
Hugh McEvoy and his 21-year-old son, Karl, have a passion for motorbikes and car racing.
But Karl sometimes has difficulty expressing that love because he has dystonia, a condition that can affect the tongue and muscles.
Until recently when he wanted to communicate with people, other than family, he had to use a picture book to show them what he wanted.
So Hugh, who runs a number of mobile phone shops in the Irish Republic, developed TalkForMe, an iPhone application that allows Karl to communicate his needs by using his own photo images and typed-in sentences from his personal phone library, not only in English, but in over 30 languages.
Hugh said the app was not only aimed at those with dystonia.
"Anyone who has difficulty speaking can use the application. They can make up their own library of most-used sentences. It's all unique to them on their iPhone," he said.
Hugh took his idea to iWord, a Dublin-based company owned by a man originally from Warrenpoint in County Down, for further development.
The finished app allows the user to add as many pictures and sentences as they need and use these to communicate their message to another person.
Hugh knows he's not going to be a rich man as a result of the app, but that was never his intention.
"It's 4.99 euros, which is about £4. But it's not about the money; it's about helping people like Karl, who have a disability and can't speak. It's a trendy piece of equipment, an iPhone, and he doesn't look out of place."
Related Internet Links
The BBC is not responsible for the content of external sites.