Northern Ireland temperatures could fall to -20C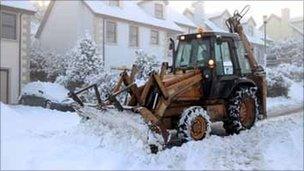 Northern Ireland is set for one of its coldest nights on record with temperatures due to fall to -20C in some parts, according to the Met Office.
More than 400 schools had to close on Tuesday and at least 190 will remain closed on Wednesday.
Translink is reporting major disruption to all its services and there are long delays at airports.
The AA said Monday was its busiest day ever.
It dealt with more than 2,000 breakdowns every hour - double the normal volume.
The Ambulance Service said it was also experiencing difficulty and has suspended transport for non-emergency patients until Christmas Eve.
Communications Officer, John McPoland, said the decision was made because of the "continuing bad weather".
"These would be people travelling to outpatient appointments in the major hospitals and clinics, people with appointments for fracture reviews and things such as that.
"But we will continue to prioritise those patients who need renal services or cancer services.
"We also have an increased number of transfers from one hospital to another and coming to Christmas we always have an increased workload in terms of discharges from hospitals to get people home in time for Christmas.
"So with all those different pressures on us at the minute, we just thought it was better to suspend the non-emergency transport to outpatient clinics."
Both of the Belfast airports are currently open but cancellations and delays are expected to continue. BMI have now confirmed a full operation for Wednesday at Belfast City Airport.
City of Derry Airport is currently closed due to fog and has cancelled all remaining flights for Tuesday.
Dublin Airport is closed until 0800 GMT on Wednesday because of heavy snow.
Passengers are being advised to check with their airlines for the latest on flight information.
The Met Office issued a warning to Northern Ireland, southern Scotland and northern England that conditions could drop to -20C on Tuesday.
BBC weather presenter Angie Philips said it could be another "record-breaker" in terms of low temperatures.
It follows the unprecedented recording of -18C at Castlederg, County Tyrone, on Sunday night.
"Ice will be widespread, especially over frozen and compacted snow, so very slippery again, with freezing fog in places causing a few visibility issues.
"Patches of freezing fog could be slow to clear and may linger in valleys for throughout the day," she said.
"Some snow showers are also feeding into Londonderry and Antrim which could give a further two to five cms in places.
"Most places dry though with wintry sunshine, and staying extremely cold with temperatures not getting above freezing.
"It will stay treacherously icy with a severe frost as temperatures plummet again, and will more than likely drop below minus 15 celsius again in a few rural spots," Angie added.
"Patches of freezing fog will also thicken or reform in places too."
Roads Service said motorists were advised that hazardous driving conditions would persist despite overnight salting and caution was advised.
Details of Wednesday's school closures are available on the news online website and ceefax page 169.
Related Internet Links
The BBC is not responsible for the content of external sites.