Man given 16-year life sentence for murdering nephew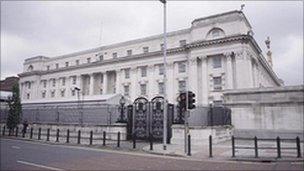 A man who was convicted of murdering his nephew has been told he must serve a minimum of 16 years in prison before he can be considered for release.
Samuel Morrison, 47, from Duncairn Gardens, stabbed his nephew George Morrison to death amid false allegations George was a rapist.
He was found guilty in November but his tariff was set on Tuesday.
Morrison, stabbed his nephew four times in the chest and left him for dead in an entry in 2009.
Judge Mr Justice Treacy told Belfast Crown Court that Morrison might never be freed.
He said: "Even when that minimum term is served, the defendant may not be released, indeed may never be released, if his risk is assessed as precluding such a course."
Friends and relatives, described by the judge as having been left "devastated" by the loss of a human life, said afterwards they hoped Mr Justice Treacy was right in what he said.
One of George's friends said: "We're glad we got justice for (George) Geordie, but life should mean life and I hope he doesn't get out like the judge said."
George Morrison's aunt, Maria Morrison, said the family were annoyed with his uncle accusing him of things he did not do.
"That really has made the family angry.
"It's bad enough living with what he did to Geordie, but to accuse him of something he just didn't do.
"The family want it to be known that it is all lies ..... what Geordie was accused of is not true and people should know that," she added.