NI teen who killed grandad gets his jail term doubled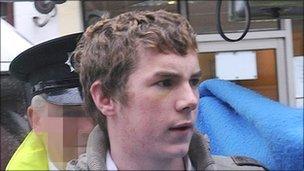 A teenager who killed his grandfather during a botched robbery has had his jail sentence doubled by the Court of Appeal.
Eamonn Coyle, 18, has now to serve two years detention for killing Francis O'Neill, 78, after it was ruled the original 12 month sentence was lenient.
Coyle, formerly of Holmview Terrace in Omagh, must also complete a further two years on licence.
He was only 16 when he killed his grandfather in April 2009.
The court had heard the attack was carried out at the victim's Brook Valley home for £80 to pay Coyle's rent.
Lord Chief Justice Sir Declan Morgan said: "The victim was a frail and elderly man who on that account was vulnerable.
"He was attacked within the confines of his home where he lived alone. A knife was used in connection with the attack."
Coyle was originally charged with murder before the prosecution later accepted his plea to the lesser charge of manslaughter.
During sentencing, the trial judge said while he was certain Coyle never intended to kill his grandfather, or even to seriously harm him, he had gone to his home "for the motive of theft or robbery".
He accepted Coyle posed no future risk to the public, and that he would recommend to the new justice department that while on licence Coyle undertake a life skills and educational course and that his movements and associates be closely monitored.
Lawyers for the Public Prosecution Service had argued that the original sentence of one year's detention and two on licence was too lenient.
They contended that Coyle had armed himself and was prepared to inflict violence on his grandfather.
The teenager was also said to have shown no remorse immediately after the attack.
Counsel for Coyle said the prosecution had always accepted the stab wounds may have been accidental.
It was also claimed that he was a "highly immature and nervous 16-year-old" at the time of the killing.
Ruling on the appeal, Sir Declan, sitting with Lord Justices Higgins and Girvan, said such an attack during the course of a robbery could result in a sentence of up to 10 years for an adult.
He also pointed to provisions to ensure that any detention for young people should focus on rehabilitation.
The judges took into account the principle of double jeopardy which arose because Coyle has had to undergo a further examination of his liability to punishment.
With an appropriate outcome held to be a four-year sentence, Sir Declan noted how the period of custody must not exceed one half of the sentence.
He said: "The maximum period of custody in this case, therefore, is two years detention with a further two years on licence.
"That is the sentence we impose.
"The sentence runs from the time that it would have run if passed in the lower court."