Pregnant woman thrown to the ground as car is stolen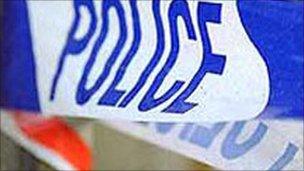 A pregnant woman was taken to hospital after she was pulled from her car by two thieves in west Belfast on Tuesday.
The woman, 31, was trying to defrost her blue Volkswagen Passat when a man jumped out of another vehicle and stole her car.
He then knocked over the woman's husband as he sped away from the scene at Glenkeen Close, Hannahstown shortly before 1000 GMT.
Both of the victims are now recovering at home.
The woman's uncle Francis Fox said police are still trying to find the thieves and his niece's car.
He told the BBC: "She was sitting in her car clearing the frost. Two men came by in another car and pulled her out and threw her to the ground.
"Her husband saw what was happening from the house and came out and they more or less tried to run him over in the process.
"Obviously she is shocked. She went to hospital, but thankfully she is fine.
"Her husband is distraught. He was very upset about the whole affair. He injured his knee and his elbow, but he is fine."
Mr Fox said the couple depend a great deal on the car.
He added: "With an eight-month pregnant woman, they need the car for the oncoming baby."
Police said both the stolen Volkswagen and the other blue car were driven off in the direction of Lisburn.
A police spokesman appealed for witnesses to come forward.