NI cancer survival rates improve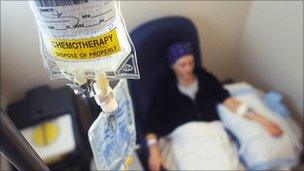 Cancer survival rates in Northern Ireland are better than England and Wales, a new report has revealed.
Health Minister, Michael McGimpsey, welcomed the results of a study by the International Cancer Benchmarking Partnership (ICBP).
It compared cancer survival for lung, breast, colon, rectum and ovarian cancer in the UK, Australia and Scandanavia.
Michael McGimpsey said the results are "good news for cancer patients".
The research found that for colorectal cancer, 8% of patients in Northern Ireland died between 1995 and 2007 within one month of diagnosis, compared to 11% in England and 11% in Wales.
In Northern Ireland, 21% of those diagnosed with lung cancer died during the same period within one month of diagnosis. In England it was 24%, while in Wales the figure was 26%.
Breast cancer patients also have a better chance of survival in NI. About 1.3% died within one month of diagnosis, compared to England's figure of 2.5% and a 3.3% rate in Wales.
One in ten women with ovarian cancer died within one month of diagnosis in Northern Ireland, while 12% passed away in England and 13% in Wales.
Mr McGimpsey said the new figures were encouraging, but Northern Ireland still has some way to go to meet the rates found in Australia, Canada and Scandinavian countries.
He added: "Our survival rates are better than the rest of the UK.
"We are continuing to work to improve our survival rates for all cancers to meet the rates found in Australia, Canada and Scandinavia.
"I am encouraged that survival for patients with the breast, lung and colorectal cancers looked at in this report have improved in Northern Ireland from 1995 to 2007."
Chief Medical Officer, Dr Michael McBride, also welcomed the report.
He said: "Breast, lung and colorectal cancer were chosen as part of the study because they are the most common cancers.
"Ovarian cancer has been included as an example of a less common cancer with large variations in survival across countries."
Mr McGimpsey highlighted the importance of cancer screening and the need for continued investment in screening.
He said: "Screening can be a life-saving service and contributes to early diagnosis and treatment. This is one service which must continue to be funded.
"I would ask people to avail of our screening services, as early detection is one of the most important factors for a person's chances of surviving."