£140m spent by Executive on irregular payments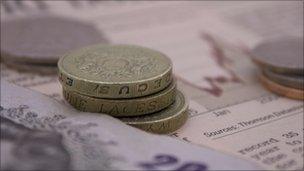 Executive departments at Stormont made irregular payments totalling more than £140m in the past financial year.
The Comptroller and Auditor General Kieran Donnelly found the Department of Social Development overpaid housing benefit to the tune of £56m in 2009-2010.
However, a further £19.5m was underpaid to customers.
Irregular expenditure by Northern Ireland Water amounted to £5.3m.
Mr Donnelly found the standard of financial reporting across central government was high.
However, he said that 2009-2010 was a year when a larger number of accounts than usual received qualifications on the grounds of truth and fairness.
He indicated that one of the main reasons was the failure to obtain proper approval for the procurement of services.
The report said several departments were guilty of making irregular payments without proper approval.
The largest amount identified was £64m pounds incurred by the Department of Agriculture for incorrectly administering EU farm subsidies.
The Northern Ireland taxpayer was also left with a bill of £25m because the European Commission said it was unhappy with the Finance Department's accounting on two special funding programmes.
Mr Donnelly said a further £1.7m was incurred on the Grand Opera House extension in Belfast because the Department of Culture Arts and Leisure had not received the necessary approval for the expenditure.
The Department of Education spent £2.1m on external consultancy fees on six projects while it overspent by £3.7m on a superannuation scheme for teachers.
The report does not include bodies within the biggest spending sector Health and Social Care.
Mr Donnelly is due to publish a separate report on this sector.
Related Internet Links
The BBC is not responsible for the content of external sites.