Hit and run driver jailed for three years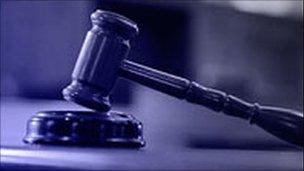 A speeding and drunken driver who admitted killing a 25-year-old pedestrian last year has been jailed for three years.
Jonathan Francis McGonagle, 23, was driving a black car when he knocked down Martin Gallagher on 1 November, 2009.
He then sped from the scene at Racecourse Road in Londonderry.
McGonagle was sentenced at Londonderry Crown Court on Tuesday. He was also disqualified from driving for 10 years.
Mr Gallagher was dressed in a fancy dress costume when McGonagle's car struck him.
The victim, who was killed instantly as a result of head injuries, was thrown up to 33m in the air as a result of the impact.
McGonagle, from Moyola Drive in Shantallow, was driving the car in a 30mph zone at between 41 and 51mph.
As well as revealing that he was over the alcohol limit for driving, blood tests also disclosed that McMonagle had cannabis in his system.
He will serve the three-year jail term without remission and upon his release from prison he will be on licence for a further three years.
Members of Mr Gallagher's family including his father Martin and mother Elizabeth and his two brothers and two sisters, all from Sandale Park, were in court for the sentencing.
As well as sympathising with the Gallagher family for their tragic loss, Judge Desmond Marrinan also praised the family for the dignity they had shown since the death of their son.