Son's killer 'showed no remorse'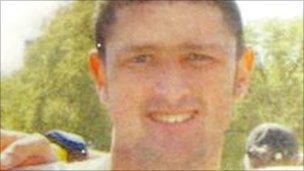 The parents of a Londonderry man who died when he was hit by a by speeding, drunk driver have said his killer never showed any remorse.
On Tuesday Jonathan Francis McGonagle, 23, from Moyola Drive in Shantallow, was jailed for three years for knocking down Martin Gallagher on 1 November 2009.
He was also disqualified from driving for 10 years.
Mr Gallagher's father, Martin Senior, said nothing would bring his son back.
"He's got three years, but my wife and my sons and daughters and I, we've got life.
"We were told from the start that was all he would get, but still you live in hope.
"For his barrister to read out in court that he showed a lot of remorse, well Martin's dead 13 months and we've had no remorse from him at all.
"My door's open to anyone who wants to come and explain these sentences to me, or if there's any way of changing them.
"It might not help us, but it might help the next family that have to go through this."
Londonderry Crown Court heard on Tuesday that Mr Gallagher was thrown up to 33m in the air as a result of the impact.
He died instantly from head injuries.
McGonagle then sped from the scene at Racecourse Road.
He had been driving at between 41 and 51mph in a 30mph zone
As well as revealing that he was over the alcohol limit for driving, blood tests also disclosed that McMonagle had cannabis in his system.
He will serve the three-year jail term without remission and upon his release from prison he will be on licence for a further three years.
Judge Desmond Marrinan sympathised with the Gallagher family for their tragic loss and praised them for the dignity they had shown since the death of their son.