My memorable year: Pauline Ross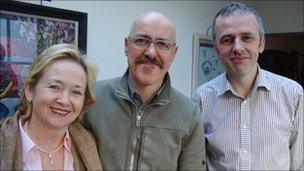 As the year draws to a close, Freya McClements from BBC News speaks to a selection of people from Northern Ireland who had a year to remember in 2010.
Pauline Ross is the founder of the Playhouse Theatre in Londonderry.
She was one of many active supporters of Derry's bid to become UK City of Culture in 2013.
"2010 is the year I thought my heart was going to burst.
"It was on the night of 15 July in the Guildhall, when were were announced as the City of Culture in 2013.
"Like a woman possessed, I immediately saw the opportunities for this historic city not just the lead up to 2013, but next year and 2011, 2012, 2013 and beyond.
"The only thing that will hold us back in that year will be our imaginations, and in this part of the world we know that's not a deficit at all.
"We've plenty of other deficits, but not when it comes to the realm of the imagination.
"Then my heart nearly burst for another reason, and that was at the launch of our theatre of witness programme.
"It's part of our arts and peacebuilding programme, which has been going on for two years, and this year we heard the stories of women touched by the conflict.
"It toured all over, from Ballymena to Belfast to Enniskillen, Armagh and Donegal, and finishing up in Newtownabbey, and that was a very proud time.
"Looking forward to 2011, I'm very excited about next year because we've just comissioned a new play by a local playright, Seamus Keenan, and this play will be premiered at our big international theater conference on arts and peacebuilding.
"We'll have theatre directors and witers and practitioners from other conflict zones across the globe including South Africa, Rwanda, El Salvador and Colombia.
"I think also the opening of our peace bridge next year!
"There's all this debate about a name, but please, what is wrong with the peace bridge?
"It's an honourable aspiration, and a realisation that with peace money and the peace process and the Good Friday Agreement we now have another bridge that we are very willing and able to cross - that's linking the west bank with the east bank.
"As a Waterside girl I welcome it.
"I'll be able to picnic in the park in the summer, I'll be able to walk down Artillery Street and onto the bridge and then on to St Columb's Park.
"My big wish that I want from Santa this year, and please give it to me, is a trebling of our annual grant from Derry City Council - and not just for us, for all the other venues in the city.
"We've going to hit 2013 soon, and we want to hit it with a huge celebration of who we are and what we are in this little precious part of the globe."
Related Internet Links
The BBC is not responsible for the content of external sites.