Challenges faced by NI's farming community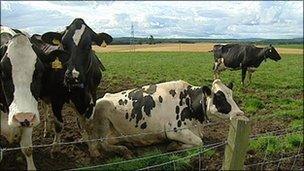 The farming year began with a spell of harsh weather which saw potato and vegetable crops frozen in the ground.
The Executive was asked to provide compensation for grower's losses, but in the end there was no financial help only sympathy.
One of the biggest stories of the 2010 concerned the £64m disallowance incurred by the Department of Agriculture for incorrectly administering EU farm subsidies.
European inspectors found that in some cases subsidies were being paid for areas of bracken and scrub.
The department said it managed to find a lot of the money from its own budget, but concerns about further disallowances continue.
The issue highlighted major deficiencies in the farm maps upon which subsidy claims are based and the Executive was asked to provide another £4m to help rectify the problems.
Meanwhile, Agriculture Minister Michelle Gildernew made the eradication of major cattle diseases a priority.
In January the minister harnessed a ground swell of anger amongst south Armagh farmers towards allegedly unscrupulous people deliberately introducing brucellosis into the area.
Hundreds of farmers attended a special meeting in Mullaghbawn where the minister said her department would use DNA samples to try and trace the carcase of an infected calf which had been allegedly dumped with the intention of causing an outbreak.
There was strong community support for innocent herd owners who had seen their animals destroyed.
As the year went on there was to be significant progress in controlling the scourge of brucellosis, but bovine tuberculosis remains a major problem for farmers as well as a drain on the public purse.
Harsh weather returned again in March when blizzard conditions saw farms blanketed in snow and livestock facing the toughest conditions seen for years.
Stock losses were heaviest on upland farms where large numbers of sheep and lambs perished in the arctic conditions.
In a busy legislative year for the Department of Agriculture, the Assembly approved tough new powers to help control animal diseases.
A new forestry bill was also passed, paving the way for the development of greater recreational use of forestry land and of suitable wind farm sites.
Developing renewable sources of energy was also a priority for the Agri Food and Biosciences Institute.
Research into growing and harvesting elephant grass was just one of many strands of research undertaken at its Hillsborough site.
Farmers and food companies continued to complain about pressure on their margins and the Ulster Farmers Union welcomed a government commitment to appoint a supermarket adjudicator.
Farm gate prices were once again an issue, as farmers across various commodities saw profit margins squeezed while they struggled to deal with rising production costs.
But the administrative burden on farmers continued to increase and this year saw the introduction of an electronic identification system designed to trace the movement of sheep.
Bramley apple growers worried about poor growing conditions, but by delaying the harvest many orchards benefited from a spell of fine weather which helped the fruit fill out.
Bee keepers also had a worrying year as they battled to protect their hives from the ravages of the varia mite and the emergence of colony collapse syndrome.
Harvesting grain crops proved a struggle and it was well into October before many cereals were safely gathered in.
The year began as it started with harsh winter weather proving particularly challenging for vegetable growers.