Coalisland firm must pay £32m damages in pig meal case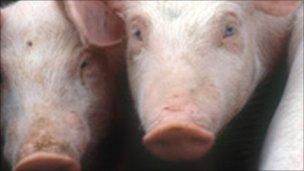 A Northern Ireland company has been ordered to pay a County Wexford firm 38.7m euros(£32m) damages arising from the Irish pork contamination scare.
O'Neill Fuels Ltd, in Coalisland, County Tyrone, were told to pay damages to Millstream Power Recycling Ltd, Bunclody.
Millstream was at the centre of the worldwide Irish pig meal contamination scare in 2008.
They claimed that the source was tainted oil supplied by the NI firm.
In 2008, all Irish pork produce was recalled from supermarkets throughout the EU as well as in world markets as a result.
Millstream supplied the pig meal containing dioxins that led to the recall of Irish pork products.
It was ordered after pig meal on a number of farms was found to have had between 80 and 200 times more dioxins than the recognised safety limit.
The oil that Millstream used had not been tested for dioxins such as polychlorinated biphenyls, (PCBs) because these had been banned in the 1970s, the company said.
O'Neill Fuels from Annaghmore Hill, Coalisland, had denied that any fuel supplied by it contained dioxins or PCBs.
In the High Court in Dublin, earlier this month, the judge struck out the case as O'Neill Fuels had not entered a defence.
Speaking after the damages were awarded, Millstream director Doreen Hogg said her family felt relieved that they had been vindicated.
"We are delighted with the outcome and the judgement after what have been two very difficult years," she said.