My memorable year: Tabea Weyrauch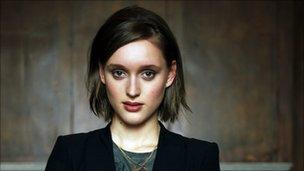 As the year draws to a close, Freya McClements from BBC News speaks to a selection of people from Northern Ireland who had a year to remember in 2010.
17-year-old Tabea Weyrauch started 2010 as simply one of many A-level students in Londonderry.
Now she can look forward to a career on the catwalk after winning a modelling contract on RTE's The Model Scouts.
"It was an absolutely incredible experience.
"It started in January, when my friend convinced me to turn up for the audition.
"I didn't even know what it was about.
"We went to London, Paris, Sydney and New York as part of the show, and met so many fantastic people along the way and learnt so much about the fashion industry itself.
"I loved the travelling. One of the highlights was the fashion show in Sydney Opera House.
"The catwalk itself was exhilarating, I found it such an adrenalin rush.
"It's hard, tiring work getting ready, you have lots of people pulling your hair and poking you, but you forget it all when you're on the runway.
"Before this, I had no idea what I wanted to do.
"Now I've found what I want to do with the rest of my life.
"I'm just back from Paris, where I've been working on my portfolio.
"I'm going to finish off my A-levels and try and build up some experience and get some work under my belt, and hopefully things will really take off next summer.
"I've got my modelling contract now, so I'll see where it takes me.
"I'd love to live in either Paris or New York, and take part in fashion weeks all over the world.
"I've been in contact with my agency, IMG, and they're keen to get started, but they're also keen I finish school first."
Related Internet Links
The BBC is not responsible for the content of external sites.