'Slight fall' in NI drink-drive detections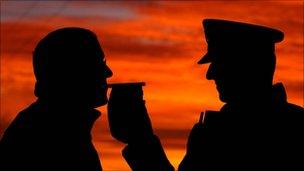 The number of people detected drinking and driving in recent weeks has fallen compared to the same period in 2009.
A total of 222 drivers were caught above the legal limit between 26 November and 20 December, eight fewer than the same time last year.
This figure includes motorists who were unfit to drive, or who were unable or refused to give a sample.
Two people were detected at four times the legal limit, and 20 people at three times the legal limit.
The police said the youngest person detected was 16 and the oldest 73 years.
The average age of people to fail the breath test was 34 years and to date, 197 males and 25 females have been detected.
Head of Road Policing, Superintendent Muir Clark said he was "shocked and disappointed" that despite PSNI warnings and treacherous driving conditions, there were people who "completely disregard the safety of themselves and others".
"To put these figures into context, the drivers detected with the highest alcohol readings, have literally fallen out of their cars when they have been stopped, or been unable to stand at the roadside," he said.
"Drinking and driving kills, maims and wrecks families.
"We are again appealing for all motorists to consider the consequences of their actions.
"Already this year, 55 people have been killed in collisions on roads across Northern Ireland, while that's less than half than this time last year, one death on the roads is one to many.
"I do not want officers knocking on doors at any time of the year, but especially over Christmas and the New Year, to tell families that a loved one has been killed on the roads."