Grenade found at PSNI officer's Fermanagh home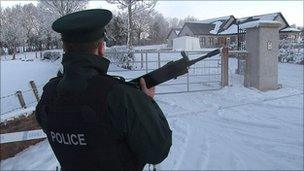 A policeman who found an unexploded grenade outside his home in County Fermanagh is said to be "distraught" about the incident.
The device was discovered at the property in Drumreer Road, Maguiresbridge, on Wednesday at about 2000 GMT.
The officer is married with two young children and the family were moved from their house in sub-zero temperatures.
PSNI Chief Inspector Alywin Barton said the attack was "inexcusable".
Dissident republicans have carried out a series of similar attacks on police officers and their families.
"On a night where there were Arctic conditions, this family had to up sticks and rush from their homes," Chief Inspector Barton added.
"It is unbelievable that someone would inflict this on anyone.
"The entire community in this area has been subjected to inhumane treatment."
"Someone intentionally disrupted this family in the mouth of Christmas, virtually on Christmas Eve in what is supposed to be the season of goodwill."
Sinn Fein MP for Fermanagh and South Tyrone, Michelle Gildernew, said those responsible for leaving the grenade "do not represent the nationalist or republican people of this area".
"We in Sinn Fein have shown that there is a peaceful and democratic path to a united Ireland; the vast majority of the people in Ireland have accepted this and I would encourage others to join us on this path," she added.
SDLP MLA for Fermanagh and South Tyrone Tommy Gallagher condemned the attack and said those responsible were "cowards".
He added: "While it is yet unclear who is responsible, their actions will be wholeheartedly condemned by everyone in our community.
"Their cowardly actions, attacking a family in their own home during the Christmas period, are in stark contrast to the bravery of those who continue to serve our community in the PSNI."
Ulster Unionist leader Tom Elliott, who also represents the constituency, said it was a "despicable and cowardly attack on the home of a police officer and his family".
"The entire community in Maguiresbridge and indeed throughout Fermanagh and the rest of Northern Ireland will be truly shocked at this incident," he added.
Acting Policing Board chair Brian Rea said that it was a "clear attempt" to kill a police officer.
"It is a relief that no-one was injured. Acts like this have no support from society," he added.