NI 2010 Review: Kenny McDowell on a memorable year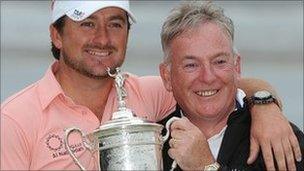 As the year draws to a close, Freya McClements from BBC News speaks to a selection of people from Northern Ireland who had a year to remember in 2010.
When he was a child, Kenny McDowell's son Graeme announced he was going to be a golfer when he grew up.
In 2010 he won the US Open and was instrumental in the European team's Ryder Cup triumph.
"I'm still dreaming I think," said Kenny.
"Graeme keeps saying to me that he needs to pinch himself, and I'm the same.
"I wish the year didn't have to end.
"Winning the US Open was the pinnacle of his career up to that point.
"It was just amazing to be over there with him and enjoy his victory.
"I don't think you ever imagine your son achieving something like that.
"I remember him stood on our kitchen when he was about 11 or 12, swinging a golf club and saying to his Mum that one day he was going to be a professional golfer and buy her a big house.
"That was the first thing he did when he won his first big tournament, the Scandinavian Open.
"I was working and he phoned the school and said Dad, you're leaving early today, we're going to go and look for a house.
"He's coming back a couple of days before Christmas, and that's when it will start for us.
"It's hard to buy for him, but my wife always manages to find something.
"Here in Portrush, we still have people coming up to talk to us about Graeme all the time.
"When he won people were cutting the stories about him out of the newspaper and posting them through the door.
"We've got a pile of Christmas cards from people he doesn't even know.
"It's just been such a special year.
"But he isn't resting on his laurels.
"He wants to climb higher and higher - and in this game, who knows what might happen in 2011."