Families evacuated in north Belfast bomb alert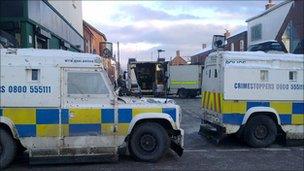 Up to 50 families have been evacuated after a pipe bomb-type device was found on the window sill of a house in north Belfast.
Army explosives experts are still at the scene in Stratheden Street where the device was spotted at 0720 BGMT on Thursday.
The woman who lives in the house said she and her sons, aged seven and four, were in the house at the time.
She said she had no idea why her home was targeted.
As police moved some people out of adjacent homes, other residents were asked to move to the back to their properties.
Elderly residents were helped from their homes by relatives and police.
Some people went to a local community hall which had been opened to take those who had nowhere else to go.
Police do not believe the incident is linked to an incident in Maguiresbridge on Wednesday evening.
North Belfast Sinn Fein MLA Caral Ni Chuilin said that whoever was behind the incident needed to "seriously consider their actions".
"They have placed local residents at risk, and two days before Christmas in sub-zero temperatures have forced 50 families to leave their homes," she said.
"I am calling on whoever is responsible for this to come forward and explain the ridiculous rationale behind what they have done to this community. Further to this they need to bring these futile actions to an end."