Amputee awarded £35k damages for Bangor fall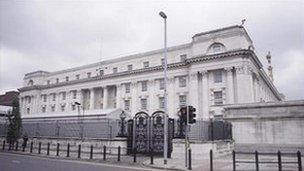 A double leg amputee who broke his elbow after falling on a cracked step in a County Down housing estate has been awarded £35,000 in compensation.
Colin Adamson sued the Department of Regional Development over a defective footpath at Kearney Gardens in Bangor.
He was visiting a friend when he lost his balance and fell in March 2007.
He badly damaged his left arm, on which he had relied for much of his ability to move following a traffic accident in 1991 when he lost part of both legs.
In December 1996, he underwent a muscle transfer operation to the left elbow to improve his movement.
But following the fall three and a half years ago, he had to have surgery to have plates and screws applied to the same elbow.
It resulted in severely reduced mobility in the joint which has affected his gait and limited his walking abilities.
In evidence, the man Mr Adamson had been visiting said the steps were broken and claimed this was a feature of the estate.
Although the area has since been tarmacked, an engineer confirmed the steps shown in earlier photographs were dangerous.
In a judgment delivered last week, Lord Chief Justice Sir Declan Morgan accepted Mr Adamson's evidence about how the accident occurred.
Sir Declan said: "I consider on the probabilities that the portion of the flag close to the front of the step moved as a result of being cracked.
"I do not consider that the defendant has made out the defence under article 8 of the Roads (Northern Ireland) Order 1993 that it had taken all such care as was reasonable in the circumstances since the evidence indicates that the foreseeable danger from cracked flags was not one which was taken into account."
The judge added: "The plaintiff sustained a nasty injury which will impede his function in the longer term.
"I make an award of £35,000 which was a figure within the range offered by both counsel together with interest at 2% from the date of issue of the writ."