Northern Ireland swine flu cases soar by 400%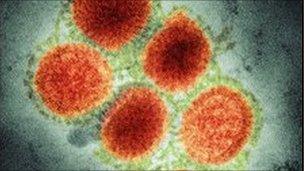 The number of swine flu cases in Northern Ireland has increased by almost 400% in the past week.
The Public Health Agency says there are now 45 reported cases compared to 11 last week.
GPs are reporting a significant increase in the number of people they are seeing with combined flu and swine flu symptoms.
Rates are highest among those aged between 5-14 and 15-44 years.
A total of 302 people are in intensive care in England with flu-like illness; of those, 24 are under the age of five years.
The PHA issued a warning earlier this month after three pregnant women were diagnosed with swine flu in Northern Ireland.
It said it wanted all pregnant women, regardless of their pregnancy stage, to be vaccinated as soon as possible.