Belfast's Black Santa's icy charity vigil nears end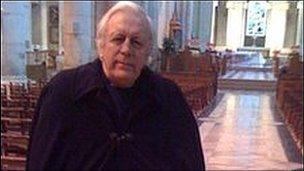 The winds may be chill but people's hearts are still warm, Belfast's Black Santa has said.
The Very Rev Dean Houston McKelvey's last Christmas charity sit-out was perhaps his toughest - he braved ice and snow and hopes he is still in line to make £200,000 for charity.
He and the Canons of St Anne's Church of Ireland Cathedral felt the cold in their annual vigil.
They braved freezing weather and a tough economic climate.
"The number of people in the Cathedral Quarter was lower this year due to the severe weather conditions," he said.
Many of the Black Santa's elderly supporters were trapped at home in the snow.
"The elderly are a significant group of supporters, and we would rather that they wait until the snow and ice melts before they risk being injured. The sit-out barrel will be available in the cathedral until the end of January," he said.
Many of the schools which support the sit-out have also been closed.
But it was the small gestures that helped.
The Dean thanked the Belfast store owner who brought two pairs of thermal socks for the Black Santa.
The appeal raises money for various charities in Northern Ireland as well as Christian Aid.
The sit-out ends on Christmas Eve.
It was a tradition begun 34 years ago by Dean Sammy Crooks. The charity vigil has raised millions since then.
Dean McKelvey first sat out for Christmas five years ago, following in the footsteps of his predecessor Dean Jack Shearer, who died in January 2001.
Dean Shearer was initially dubbed Black Santa by the media because of his distinctive clothing and the name caught on among the public.