Councils struggle to get bins collected in snow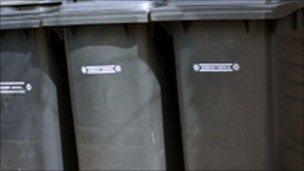 Councils across Northern Ireland are struggling to get bins collected before Christmas Day.
In Newtownabbey, people have been told to bring bins to collection points as lorries are unable to drive along the icy roads.
Belfast City Council said it had picked up 70% of bins on schedule but the council won't get to everyone.
In Castlereagh, it could be the end of next week before the backlog is dealt with.