Thousands of salmon killed at Bushmills research centre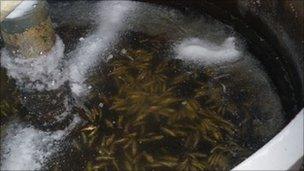 The cold weather has led to the deaths of thousands of salmon at a fish research centre in north Antrim.
The temperatures mean water in tanks at the government facility in Bushmills is freezing, depriving fish of the oxygen they need to survive.
Younger fish in particular are vulnerable to the lack of oxygen.
Centre manager Martin McAleese said staff are working every morning to smash ice and keep the water in the tanks running.
He added: "These fish are vital, not only for the angling estate, but also for the research that has gone on on at the station for almost 40 years. I
"If these fish don't survive that's a big gap in the research."