Just a lot of silly bloggers?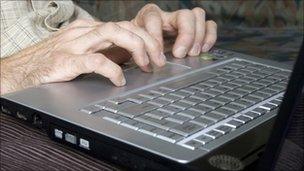 Missing the shenanigans up at Stormont during the holidays?
Then could I suggest you take a trip back in time to 1690 An' All Thon; have a Pint of Unionist Lite; or perhaps contemplate the possibility that Ulster's Doomed!
In case you're wondering - and as you are already reading this online you're probably not - they're all Northern Ireland-based political blogs, where a growing band of political anoraks are going for their fix of news, opinions and occasionally vitriol.
Most are written by the nameless and the faceless which means they can get away with pretty much anything.
But a new brand of blogger is emerging to give the traditional media a run for their money.
You only have to look around the press tables at the party conferences to know the bloggers have come in from the cold.
On a Saturday morning at the Ulster Unionist conference you can see the News Letter, the Irish Times - and Alan In Belfast, aka Alan Meban.
By day he earns a living working in the IT Industry, by night and at weekends he does it for free, working on his own blog and for the most popular of of all Northern Ireland's political web sites, Slugger O'Toole.
"I've always been interested in election results and all that kind of thing," says Alan Meban.
"And I realised as I got into blogging that it's a way of opening up to a wide audience, concepts and ideas and people and parties which they wouldn't normally engage in.
"I would get hundreds of people reading Alan in Belfast on any given day and about 500 people subscribe to it.
"Over on Slugger, I tend to do the political stuff because it is a local political site and people expect to find it there and some people don't want to read about politics so I keep them separate.
"There's maybe 20 or 30 people would post (articles) on Slugger and then there's thousands and thousands of people a day who read it."
Close by sits Geoff McGimpsey working on his site, Open Unionism.
He used to work in the Ulster Unionist press office but denies he's forced to toe the party line.
"Absolutely not," he says. "There's no way somebody would want to come to a blog to read a press release.
"They'll want to see something that's different, that's got a different perspective and that's why they come to Open Unionism because you're not a party hack; you're there to engage with others and they might not be from the UUP; they could be from the whole spectrum.
"Parties have to be careful with how to handle bloggers."
David Gordon, Political Editor of the Belfast Telegraph admits he sometimes envies the bloggers their freedom.
"You think of the legal hoops that we have to jump through to get stuff that we know is true but that we have to prove beyond doubt to three bosses, " he says.
"There's also the old saying 'never wrong for long'. If they're wrong, there are not really any repercussions for them."
However he says its "admirable" that the bloggers put in so much time for so little financial reward, although he has reservations.
"There are times on the blogs when there is useful political debate and there are times when it becomes background noise.
"I think it only attracts a certain type of people. I don't necessarily think its a broad representative cross-section of opinion or even punditry and it can at times attract extremist views on the blogosphere.
"They sometimes predominate and that can be the main part of the background noise."
But as the bloggers become more 'official', Alan Meban admits the relationship with the parties is changing.
He says: "There is a tension definitely because you need information and it's handy to have the speech electronically before it's said and then you can actually be posting it online as it goes, so you do actually require a good working relationship with them.
"But that's true in all kinds of worlds. If you want to get access to Sesame Tree or Sesame Street then it's the same thing."
Now, no REAL political correspondent could dare mention politicians and the Muppets in the same sentence - could they?