Cold comfort for 'Baltic' Northern Ireland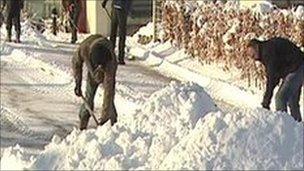 As the big thaw allows us to emerge from one of the coldest spells in years, it is clear that 2010 will not easily be forgotten, not just because of the record-breaking low temperatures.
During the past month barely a day has gone by when our attention has focused on something other than how cold it is, how much snow has fallen, and how dangerously icy our roads and pavements are.
It is for this reason it is easy to forget that just a month before the cold snap began in November, many parts of Northern Ireland were basking in autumn sunshine accompanied by temperatures of 20C, seven degrees above the seasonal average.
Since then we have set four new records for the lowest temperatures ever recorded.
In November, overnight temperatures plummeted to the coldest on record for that month when -9.5C was recorded at Lough Fea, in the Sperrins area.
Three weeks later on 18 December, daytime temperatures in Castlederg didn't get above -11C, the coldest daytime maximum temperature recorded here.
With temperatures like this by day, it was no great surprise that just a day later overnight temperatures fell to -18C in the County Tyrone town, breaking the previous record for the lowest temperature ever recorded here when -16.1C registered at Katesbridge, County Down, in December 2010.
If that wasn't cold enough, just three days later temperatures plunged even further when they reached a bitterly cold -18.7C.
In fact, for the seven days leading up to Boxing Day, temperatures didn't get above 0C in Castlederg, or "Castle-iceberg" as I heard a few people call it.
Many of us have heard or used the phrase "It's Baltic" to describe how cold it is outside.
It is therefore interesting that at lunchtime on the 21 December temperatures here were colder than the Baltic states.
The coldest spot was Katesbridge in County Down where -12C was recorded.
In Estonia, the lowest temperature was in Tallinn, a very cold -10C. That was followed by -9C in Madona, Latvia, and -5C in Utena, Lithuania.
So, perhaps, during future cold spells in the Baltic states it may not be that unusual to hear people there saying: "It's Norn Iron outside."