Three hurt during armed robbery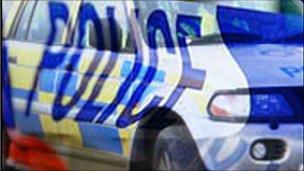 Three people have been injured during an early morning armed robbery at a social club near Belfast city centre.
Two men, one armed with a hammer, forced staff and customers to lie on the floor of the Transport Club in May Street at about 0100 GMT on Tuesday.
They then smashed bottles and damaged slot machines and a cigarette machine before leaving the premises.
The three people were taken to hospital where they were treated for minor injuries.
Police have asked anyone with information about the incident to contact them.