Wedding reception saved by sea and bottled water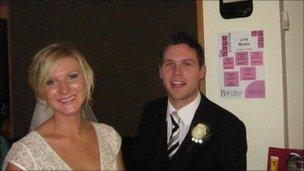 A newly-wed couple managed to hold their reception at a County Antrim seaside hotel despite it having no water.
The water was switched off at the Bayview Hotel, Portballintrae at 1300 BST on Tuesday before guests arrived for Eoghan and Kathy Kearney's wedding reception.
Hotel owner, Trevor Kane said staff were in a "real panic" when they found out they had no water.
"The biggest issue was obviously making sure we had water to flush the toilets in the public areas," he said.
"One of the guests came up with a great idea, 'Let's go to the sea and bring up buckets of water', so that's what we did and we strategically put the buckets of water round the various parts of the hotel and we were able to flush the toilets."
That still left the problem of how food could be cooked and prepared for 90 guests.
"I contacted NI Water, they had local men on the ground and they were very good," said Mr Kane.
"They actually supplied us with bottled water which meant that the chefs could go ahead and cook the food for the guests to sit down and eat at about six o'clock."
It is not the first time the hotel has been disrupted by a loss of water.
"It happened last year as well," said Mr Kane.
"We had a full house of guests which created again, a big problem for flushing the toilets in the rooms, having showers.
"This year, because of the wedding, it was much more of a panic but at least it was able to go ahead.
"They had a great day, all of the guests."
Bride Kathy Kearney said she found out there was no water on Tuesday morning.
"I had a couple of friends staying in the hotel so they let me know there was no water in the taps," she said.
"I didn't actually tell Eoghan, he would be more panicky than me.
"I was actually ok with it.
"We just thought there's nothing we can do about it and we'll just have to get on with it."
She said she was always hopeful that her wedding reception would go ahead.
"I have known Trevor Kane since I was four-years-old and if anyone was going to get me water, it was him," she said.
"The worst problem was that me and the bridesmaids couldn't get our hair washed but apart from that it was ok.
"We had a great time, we danced into the wee small hours."
The couple, who are from Northern Ireland, work as teachers in Manchester and are taking a short break in Ireland before the new term.
They are heading off on their honeymoon over the next school break.