Bouncer convicted of Belfast kebab shop attack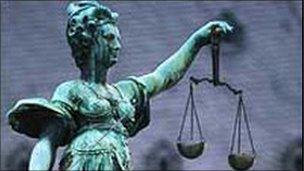 A bouncer has been convicted of assaulting a man he claimed was trying to take photos of him.
Stuart Wilson, 26, was said to have put Jonathan Neeson into a choke hold while another man punched him repeatedly at a kebab shop in south Belfast.
Wilson, of Derramore Way, Cookstown, was found guilty of assault and destroying or damaging the victim's phone.
He was told he may now face jail when he is sentenced next month.
Mr Neeson was attacked after a night out at Queen's University Students Union in October 2009, Belfast Magistrates' Court heard.
He alleged the doorman, who works at a south Belfast bar, grabbed and held him while he was in a queue for food.
Mr Neeson said he needed treatment for neck and shoulder injuries at the Royal Victoria Hospital, and had to take painkillers for months afterwards.
He insisted the attack was unprovoked and rejected claims that he held his phone up to take photos of Wilson.
During cross-examination by defence counsel Michael Boyd, he replied: "That's an outrageous accusation."
Mr Neeson added: "My human rights were being violated. I was being held in a choke hold."
Wilson told the court he had been asked to cover the door on the kebab shop where up to 30 people were gathered.
He also claimed to have tried to break up a fight involving a Philipino man, Mr Neeson and three of his friends.
Wilson also stated: "I took hold of his phone, I did not put my hands on him."
But following a contested hearing District Judge Ken Nixon said he was satisfied beyond reasonable doubt of his guilt.
Mr Nixon added: "This defendant has every risk of imprisonment, not least in light of his previous conviction."
With sentencing put back until January, Wilson was also told he should expect to pay compensation to Mr Neeson.