Weather and infrastructure blamed for water crisis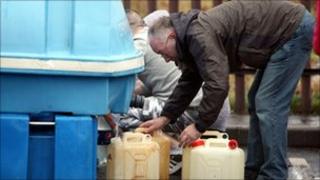 The current crisis affecting Northern Ireland's water service has seen 40,000 people off supply at its peak - some for up to 12 days.
It has also led to Northern Ireland being compared to a "third world country".
Northern Ireland Water, the government-owned body, which is the sole provider of water and sewerage services in Northern Ireland, has borne the brunt of public anger.
It has blamed the rapid thaw, after a period of record low temperatures, for causing an unprecedented amount of burst pipes in the system.
The company has also cited historic underinvestment in Northern Ireland's infrastructure as a contributing factor in the crisis.
So just what has caused the situation which has led to misery for tens of thousands of people - the weather or the infrastructure?
The consensus among experts seems to be a bit of both.
"I think the weather has caught the system out, because the system is creaking," said Alan Strong, senior lecturer in Environmental Engineering at the University of Ulster.
"Although we're talking today about water supply, tomorrow it could be the sewage system that's overloaded, some day it could be a major flooding issue.
"Northern Ireland Water and the whole water industry are creaking in terms of dealing with a range of pieces of infrastructure that are not really fit for purpose."
Mr Strong said some of the pipes being used in Northern Ireland were 60 years old.
"The UK and Europe in particular have invested in a lot more modern pipes," he said.
"So the old cast iron or rigid pipes, you'd find very little of that in Europe and the UK, while we've still got a sizeable percentage - Europe and the UK would have moved to polyethylene or PVC pipes.
"There is a programme of water main rehabilitation going on at the moment by NI Water, but it's like the old classic school report 'could do better'."
On Wednesday, interim chairman of NI Water, Padraic White, admitted the weather had caught out the company.
"Despite all the plans and preparations of NI Water, which worked last year, I think what caught the organisation on the hop this year was the sheer speed and extent of the thaw," he said.
"Frankly, as the interim chairman of the organisation, I don't think the response has been satisfactory."
The company's Liam Mulholland added: "Historically, we have had an amount of underinvestment here.
"We had the Troubles and that has led to a level of underinvestment in the network which is now manifesting some problems for us which we're trying to deal with as fast as we can."
Permafrost
BBC NI Environment correspondent Mike McKimm said no-one presently employed by Northern Ireland Water could probably be blamed for what had happened.
"It's been traditional to bury water supply pipes deep in the ground to protect them from damage and the cold. The deeper they are buried the more protection they get," he said.
"However, the recent intense cold lasted so long that Northern Ireland ended up with a mini permafrost in places.
"Normally when we get short bursts of snow the ground stays warm, often remaining several degrees above freezing.
"Snow can actually help insulate and protect the ground. Further down the water pipes remain safe. But this year the endless cold allowed the ground to freeze deep down.
"This either caused pipes to crack or water under the pipes to freeze. In turn this ice pressed against the pipes cracking or snapping them from the outside."
He said the answer was to bury pipes even deeper, but that was not practical.
"Tens of thousands of kilometres of pipes would have to be dug up and then buried again," he added.
"But in some cases, where large water mains are actually in the open and exposed to the elements, the situation is different. These are obviously very vulnerable and need to be protected in the future."
He said one question which did need answered was why so much water was allowed to escape from reservoirs before anyone noticed and why did alarms not literally sound at NIW headquarters?
Mr Strong said Northern Ireland was overly dependent on upland reservoirs and that when the rivers which normally supply them became frozen, no water got to them.
He added that a lack of ground water sources made this a difficult problem to remedy.
Earlier this year the Institution of Civil Engineers did an independent assessment of the infrastructure in Northern Ireland.
In terms of the water and waste water network, NI was graded as a C, which equates to "requires attention".
The institution believes that water charges - which the Northern Ireland Executive has said it does not plan to implement in the next four years - should be brought in to give NI Water adequate funding to address the shortcomings in the network.
"What water charging does is it gives them a definite income on a regular basis, but also people start to behave differently with water - we start to understand what a precious commodity it is," the institution's Wendy Blundell said.
She said "many millions" were required for NI's water infrastructure.
"The stop-start approach of funding infrastructure does not work and that's the method we've been using here in Northern Ireland," she added.
"If you look across to England that has not been the approach - they have, over the last 20 years, had that sustained investment in their water infrastructure in particular.
"What we really need is a robust water infrastructure here."