NI swine flu cases have 'more than doubled'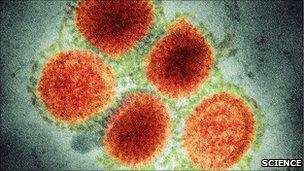 The number of swine flu cases in Northern Ireland has more than doubled in the past week.
The Public Health Agency said those eligible for the H1N1 vaccine should see their doctor as soon as possible.
Official data shows the number of cases has more than doubled from 56 to 129
But BBC Northern Ireland Health Correspondent Marie Louise Connolly said that, judging by last year's statistics, the real figure is probably a lot higher.
According to the Public Health Agency there has been an increase in all flu activity, including those with respiratory problems.
The classic flu symptoms are a sudden fever, headache, muscle aches, a dry cough and sore throat.
The average duration of infection is between 10 and 14 days.
Marie Louise Connolly said that hospitals were starting to feel the pressure. There were 26 trolley waits at the Belfast's City Hospital earlier on Thursday, the public are asked to stay away from their local hospital and their GP unless absolutely necessary.
Dr Brian Smyth, Consultant in Health Protection, at the Public Health Agency said the agency had seen a "continued significant rise" in the number of seasonal flu cases.
"This is to be expected at this time of year, given the recent particularly cold weather and the circulation of several respiratory viruses," he said.
"Despite the recent rises, our current flu activity is less than the peaks noted in the past two years. As we expect the flu viruses to continue to circulate for the next few weeks, it is vital that at-risk individuals get vaccinated."
Dr Smyth added, "The public can also take simple effective measures to protect themselves. Use a tissue to cover your mouth and nose when coughing or sneezing, throw the tissue in the bin and wash your hands as soon as you can. These measures can prevent all flu and flu-like illnesses.
"If you do get flu this year, our advice is to stay at home and don't spread your infection to others. Rest, stay warm, drink plenty of fluids and use over-the-counter remedies if they make you feel more comfortable."
For more information about the flu virus and the vaccine for 2010/2011 visit the HSC Public Health Agency or speak to your GP, nurse or member of staff at the antenatal clinic in your local trust.
Related Internet Links
The BBC is not responsible for the content of external sites.