Northern Ireland healthcare hit by water crisis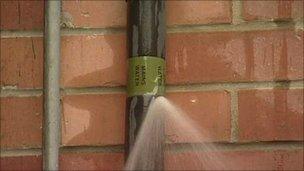 Health Minister Michael McGimpsey has revealed that many healthcare facilities have been experiencing water shortages and burst pipes.
Many residential and nursing homes, mainly in the Belfast area, have also had difficulties.
South Tyrone Hospital has been relying on the NI Fire Service and bottled water supplies.
Lagan Valley Hospital was without water for "a number of hours" on Thursday.
Six thousand homes across Northern Ireland are still without running water after pipes burst in the recent thaw.
Supply for about 20,000 customers is being rotated leaving homes without water for up to eight hours.
Belfast has been one of the worst affected areas.
Mr McGimpsey praised staff across the health and social care service for their efforts in dealing with the impact of the recent severe weather.
"My Department, the Health and Social Care Board, the Public Health Agency and the trusts have been in daily contact since mid-December to ensure an effective coordinated response to the pressures arising from the severe weather conditions," he said.
"Despite these current difficulties, the health service is managing well. I wish to reassure everyone that we respond to these kinds of additional pressures every winter and have the necessary plans in place to cope."
Damage to water infrastructure at health service locations has been repaired by estates staff.
The minister said the board had put arrangements in place to ensure that vulnerable people and residential homes needing supplies have sufficient drinking water.
"Social services staff in trusts have also been involved in ensuring that people known to them receive water if their supply is disrupted."
Mr McGimpsey also said there had been a sharp increase in demand for Accident and Emergency services due to falls and accidents, as well as people suffering from flu and other viruses. The minister asked people not to attend Accident and Emergency or their GP unless absolutely necessary.
"As always at this time of year we will need to prioritise our services for the sickest which may have an impact on routine operations," he said.
"In addition, I want to urge families, friends, carers and neighbours to keep an eye on the vulnerable in our communities during this difficult time."
More information on the water shortage is available from the NI Water website, or telephone hot line on 08457 440088, on Ceefax page 169 and BBC News Online.
Related Internet Links
The BBC is not responsible for the content of external sites.